TEKNIKALNO IMPLEMENTACIJA | DEUTSCHE KINEMATHEK

O Jürgen Keiper si medijako eksperto kaj kerel buchi Kaj Deutsche Kinemathek – Museum für Film und Fernsehen, kaj wo si responsiblo vash, inter alia, vash "Lost Films", o web site pala "Wir waren so frei…Momentaufnahmen 1989/90", "FIRST WE TAKE" – Maj Anglal Ame Las (ku Peter Paul Kubitz), thaj o arxivo kathar Deutsche Film – und Fernsehakademie Berlin (ku Volkmar Ernst).
Wo sas redaktori kathar o dzhurnalo "Film und Kritik" – Filmura thaj Vakimata, kathar (1992-1999) thaj rodimasko amal kaj o Instituto vash Teatroske, Filmange thaj Medijake studiji kathar Goethe University, Frankfurt (1993-1997). Maj palal kadalestar (1997-2006) kerdjas buchi vash o Deutsches Filminstitut kaj wo sas o sherutno ando projekto kaj busholas, vash egzemplo, o IST Projekto "COLLATE – Collaboratory for Annotation, Indexing and Retrieval of Digitalized Historical Archive Information" – Ekh grupo eksperturia kaj keren buchi po Interneto te kiden, analizisaren thaj te chuven kethane digitalajzime historikalnonja arxivoski informacija.
Maj anglal te lel peski pozicija vash Deutsche Kinemathek ando 2006, o Keiper sas direktori vash le projektura "filmportal.de" (2003-2006) thaj "MIDAS – Moving Image Database for Access and Re-use of European Film Collections" – Mukimasko Kipo Datangi Xajing vash Dimos-Andre thaj Pale-Haznimos kathar Europicka Filmange Kidimata (2005-2006) thaj andjas kethane o Standardization Working Group for Filmographic Entries on a European Level – i Standardizacija Buchjarimasko Grupo vash Filmografikicko Chuvimata-Andre pe Europicko Levelo (2005-2006) ande Kolaboracija la Europickonja Komitijasa vash Standardizacija thaj o Deutsches Institut für Normung (DIN).
Maj palal kodolestar kerdjas but sikajvimaske zadatkura, divanura thaj expertoske opinjura/gindura pe filmura, nevi medija, thaj ashimaske efektura ando digitalno veko/vrama. Akanutnes, o Keiper sikavel kaj o Instituto vash Informacija thaj Dokumentacija kathar Potsdamesko Universiteto vash Applied Sciences (Praktikalni Sijenciji) thaj-vi vash o Audio-Visual Cultural Heritage Program – le Ashunimaske-Dikhimaske Kulturalnone Heritancijako Programo kaj Filmuniversität Babelsberg.
Le Chris-Wahlesa, Jürgen Keiper si o dujto-ankalajitori/publisatori kathar o blogo "Memento Movie" – Serimasko Filmo.
Vash maj but informacija thaj tekstura dikhen: www.jkeiper.de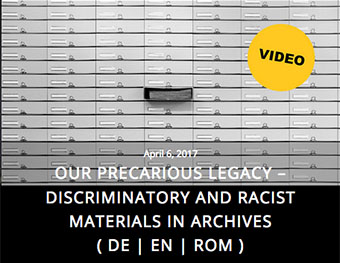 So kames te dikes akana?
palpale kai o BLOG
Maj but informacija pala o projekto:
Projektske Manusha & Arxiveske/Arhiveske Sekciji