TECHNISCHE UMSETZUNG | DEUTSCHE KINEMATHEK

Der Medienexperte Jürgen Keiper arbeitet bei der Deutschen Kinemathek – Museum für Film und Fernsehen, wo er u.a. für "LOST FILMS", die Internet-Präsentation zu "Wir waren so frei… Momentaufnahmen 1989/90", "FIRST WE TAKE" (mit Peter Paul Kubitz) und das DFFB-Archiv (mit Volkmar Ernst) verantwortlich ist.
Er war Herausgeber der Zeitschrift "Film und Kritik" (1992–1999) und wissenschaftlicher Mitarbeiter am Institut für Theater-, Film- und Medienwissenschaft der Goethe-Universität Frankfurt am Main (1993-97), bevor er beim Deutschen Filminstitut tätig wurde (1997–2006). Dort war er u.a. für das IST-Projekt "COLLATE – Collaboratory for Annotation, Indexing and Retrieval of Digitized Historical Archive Material" zuständig.
Vor Beginn seiner Tätigkeit bei der Deutschen Kinemathek im Jahre 2006 hatte Keiper die Projektleitung für "filmportal.de" (2003–2006) und "MIDAS – Moving Image Database for Access and Re-use of European film collections" (2005–2006) inne und koordinierte die Arbeit der Standardisation Working Group for Filmographic Entries on a European Level (2005–2006) in Zusammenarbeit mit dem European Committee for Standardization und dem Deutschen Institut für Normung (DIN).
Es folgten zahlreiche Lehraufträge, Vorträge und Expertisen zu dem Thema Film, Neue Medien und Nachhaltigkeit im digitalen Zeitalter. Aktuell hat Keiper Lehraufträge am Institut für Information und Dokumentation der FH Potsdam sowie im Studiengang "Audiovisuelles Kulturerbe" der Filmuniversität Babelsberg inne.
Mit Chris Wahl ist Jürgen Keiper Herausgeber des Blogs "Memento Movie".
Weitere Informationen und Texte: www.jkeiper.de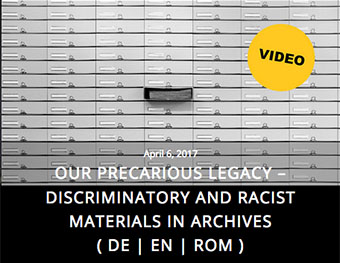 Was möchten Sie als Nächstes lesen?
Zurück zum BLOG
Weitere Informationen zum Projekt
Projektbeteiligte & Archivbereiche