Co-curator | Archive Section
Theatre & Drama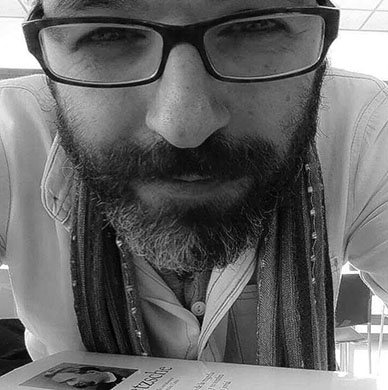 Miguel Ángel Vargas is a Spanish artist with distinctive Andalusian-Gitano roots stemming from Lebrija and Jerez. He earned his degree in Art History from the University of Seville, where he is currently pursuing his PhD in Contemporary History. He also studied Theatre Direction at the Seville Institute of Theatre in 1999.
He participated in many shows as an actor, musician, director, producer and technician. He defines himself as a poet because he tries to embody the authentic meaning from which the original Greek (ποιητής) was derived: the one who creates, the one who begets and gives birth.
His passion resides in the world of flamenco and theatre. His heartfelt mission is to tell the stories of the Gitano fieldworkers from Lebrija and to follow the commitment of the Teatro Lebrijano, an independent political theatre company established in his hometown in the 1970s.
His work portfolio is extensive and vibrant. He has worked with many different artists and companies in a variety of roles. He was an actor in Spain with Teatro del Velador; in Germany with Roma Theater Pralipe; in England, with Northern Stage, Newcastle, and imitating the dog, London; he was the technical director of the Teatro Quintero in Seville; set designer and stage director of shows such as "Puro" and "Pinacendá", by Farruquito, director in "Directo" and "Gilǎ", by José Valencia, stage manager of the show "Gitanas" and other shows. He was an opera machinery technician at the Teatro de la Maestranza, Seville. He took on the role as head of production of "Flamenco Hoy", by Carlos Saura, and the role of TV theatre & floor manager of the television program "Ratones Coloraos", in Canal Sur.
He participated in the development of numerous philanthropic research projects such as the "Invisible Theatricality and Flamenco" in Italy, and the Doncaster International Gypsy Festival in England. His philanthropic work and civic duty extends as Professor of Theatre at the women's prison in Seville, and as teacher/mentor in the MA scenography program of Saint Martin School of London.
A voracious reader, bohemian, and a tireless conversationalist.
What would you like to read next?
Back to the BLOG
FURTHER INFORMATION ON THE PROJECT
FAQ (Frequently Asked Questions)
Project Participants & Archive Sections