Archive Section on Holocaust "Voices of the Victims"
The Archive Section on the Nazi Holocaust of Roma in Europe publishes early accounts by Holocaust victims, such as letters, secret messages from concentration camps or witness statements in courts. These sources have been compiled by the historian Karola Fings and her team of 13 colleagues as part of her project 'Voices of the Victims' – a truly pioneering undertaking. The working group in this archive section will conduct research in several archives to find early witness accounts from mostly 1933 to 1945, extending into the mid 1950s. The individual sources from 20 countries will be carefully annotated and contextualised with a background report on the persecution of Roma in each respective country.
Curator
Dr Karola Fings, historian, Germany
Working Group
Dr Viorel Achim, historian, Romania (Romania expert)
Dr Gerhard Baumgartner, historian, Austria (expert on Austria and Hungary)
Dr Karola Fings, historian, Germany (expert on Germany, Netherlands and Switzerland)
Jana Habrovcová, historian, Czech Republic (Slovak Republic expert)
Monique Heddebaut, historian, France (Belgium expert)
Martin Holler, historian, Germany (expert on Belarus, Latvia, Russia)
Dr Marie-Christine Hubert, historian, France (France expert)
Dr Milovan Pisarri, historian, Serbia (Serbia expert)
Dušan Slačka, historian, Czech Republic (Czech Republic expert)
Dr Joanna Talewicz-Kwiatkowska, cultural anthropologist, Poland (Poland expert)
Dr Paola Trevisan, cultural anthropologist, Italy (Italy expert)
Dr Mikhail Tyaglyy, historian, Ukraine (Ukraine expert)
Dr Danijel Vojak, historian, Croatia (expert on Croatia, Bosnia and Herzegovina)
Blog posts from the Archive Section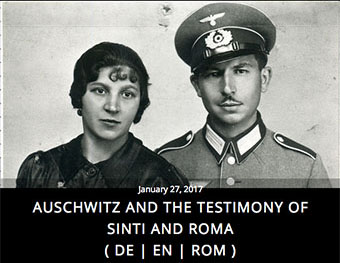 Overview of all Archive Sections
WHAT WOULD YOU LIKE TO READ NEXT?
Back to the BLOG
FURTHER INFORMATION ON THE PROJECT
About RomArchive
FAQ (Frequently Asked Questions)
Press Area
Project Participants & Archive Sections
Ethical Guidelines
Collection Policy
Sponsors | Partners
Privacy Statement
Imprint | Disclaimer